Moderator
Staff member
Moderator
Joined

Dec 25, 2002
Messages

17,327
Points

113
Location
Saw the question earlier and since I needed to do mine I figured it was a good time.
First, the procedure is not in my manual!
So I can't tell you if this is the right way, but it is how I did it.
The tumbler needs to be in the unlocked position.
EDIT....I felt I should highlight this since we are talking about 30 year old vehicles!!!! If you don't know what PB Blaster is...you need to find out!!!!!
And use it!
I recommend PB blaster in the lock before you start!
so.
If you look at the bottom side of the handle, there is a real small hole about the size of a paperclip.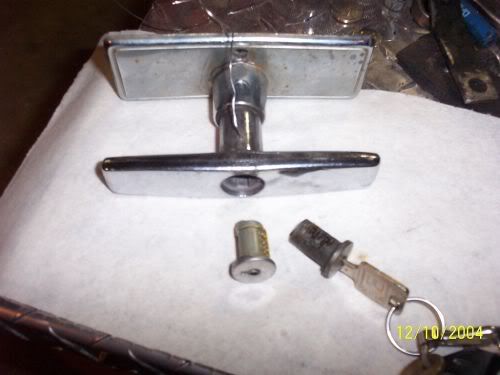 Now you can use a paper clip, safety wire, or a torch tip file works real good!
So you understand, The gold ring at the end is what you are pushing on. It locks the cylinder into the handle.
But take a look at the tumblers. They also stick out when the key is not in the lock.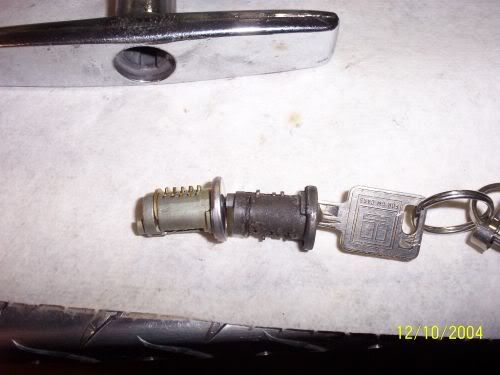 So if you don't have the original key you can not retract the tumblers.
Well what I did is take a piece of safety wire and slip it into the the tumbler, then I took an old key and slipped it in on top.
This was enough to release the tumblers.
Then I stuck the wire in the hole and released the tumbler from the handle.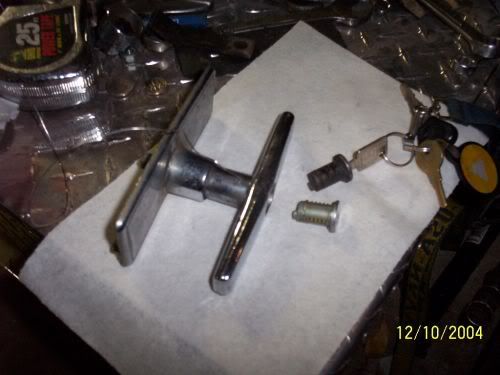 So, what happens if the tumbler won't release?
plan B.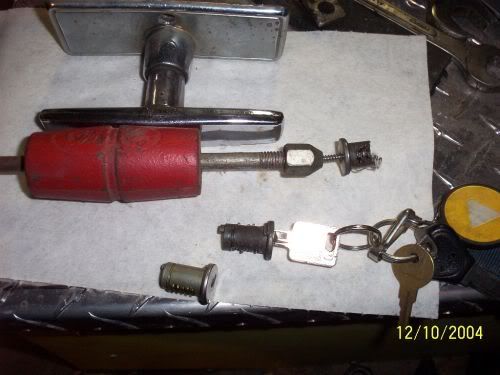 A slide hammer works great. Just make sure you still release the lock ring with the wire.
Then you just put the new key in the new tumbler and slip it in the hole till it catches. After you cleaned and lubed it with some graphite.
Look close inside before slipping it in. There is a small little tit that has to line up with the back of the tumbler assy.
Now for the alternative.
Here is the T-handle from Lowes. about $7. that and a piece of alum to make a base and you are set. Just double nut the screws for the handle so they can't be removed from the outside. Then cut the square shaft to length.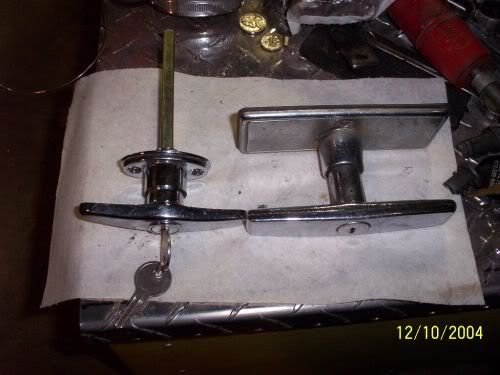 Last edited: